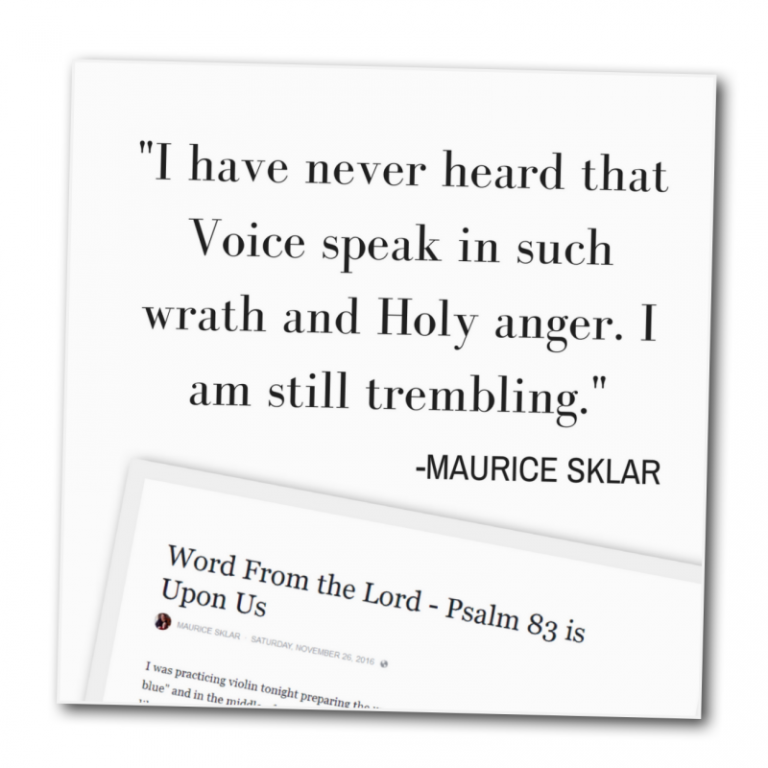 Word From the Lord

Psalm 83 is Upon Us
I was practicing violin tonight preparing the upcoming concert, and suddenly, "out of the blue" and in the middle of the last movement of the Shostakovich trio, I heard what sounded like an audible Voice. I do not whether it was in the natural realm or just in the spirit realm, I nearly dropped my violin! The LORD spoke like He was shouting, and He roared like a Lion, and a terrible sound like thunder. It was deafening, and yet I do not think anyone else heard it down here…then He said,
"I WILL HAVE THIS NO LONGER!! NOW I WILL RISE UP AND JUDGE ESAU FOR HIS ETERNAL HATRED OF MY PEOPLE AND MY LAND. MY HOLY FIRE WILL BURN THEM AND THEY AND THEIR LANDS SHALL PERISH BY FIRE FOREVER, AND NEVER RISE AGAIN!! THE TIME HAS COME TO DELIVER MY PEOPLE ISRAEL!!
"AS THEY HAVE SET FIRES IN ZION, SO SHALL I SEND MY FIRE UPON YOU THAT SHALL NEVER BE QUENCHED!! I AM THE LORD OF HOSTS! AND I HAVE SPOKEN IT! PSALM 83 IS UPON YOU NOW!!!
I have never heard that Voice speak in such wrath and Holy anger. I am still trembling. Then the Holy Spirit commanded me to write these words I heard. As best I could I wrote everything I heard. Amen.
Save