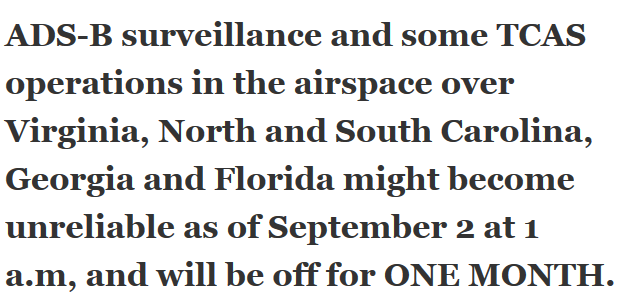 When your internet goes out, how long before you get stir crazy?
This is communication is set up for aircraft, with passengers, so I can imagine you gather how important this is!
The outages are due to events labeled as "late notice from the Department of Defense of military exercises."
Haven't we seen these so called "military exercises" before big staged events in the past?
Our military is now interfering with flight safety, detection and surveillance up to 200nm off the East Coast,…..
Could this be a set up for another false flag event?
Is there something they are not telling us?
Will something be let through, and then blamed on the fact that it was a mistake, or not seen ( or ignored ) because of these exercises?
It seems like we have run through this exact scenario over and over again in the past.
September has just got even more interesting.
ATC radar info and on-board radar are meant to avoid collisions. These systems also detect aircraft approaching our coast. It is for safety and early warning system.
Maybe you are reading this article and are reminded back to previous false flag events, when "military exercises" were in progress, and real attacks were ignored.
It's like advertising to the world, 'our East Coast will be unsafe and less surveilled for the next month in case you want to stop by..'
TCAS, ADS-B Unreliable on East Coast During September ainonline.com

Read more about this topic at the forum defconwarningsystem.com
Massive Pulse Over the Atlantic/Aviation Alert
Satellite Imaging Picks up Massive Energy Pulse Across the Atlantic Ocean, 2 Military Helicopters Down, Could these Events be Related? http://www.BPEarthWatch.Com http://www.FukushimaRadiation.Info
Interesting Comments Under This Video
BPEarthWatch Images Reported; Early this morning, in a double display of sheer power and explosive force, two rockets thousands of miles apart blasted off toward space within 6 hours of each other. Just before dawn today (Sept. 2), a United Launch Alliance Atlas V rocket lifted off from Florida's Cape Canaveral Air Force Station carrying a military communications satellite. The rocket's fiery tail reflected the light coming from below the horizon, creating the illusion of a glowing orb hanging over the water. The fantastic sight was captured in the photograph above. Earlier in the day (12:37 a.m. EDT (0437 GMT), a Russian Soyuz rocket blasted off from the Baikonur Cosmodrome in Kazakhstan carrying three human passengers headed for the International Space Station. http://www.space.com/30448-rocket-launches-soyuz-atlas-v-photos.html
See more at space.com
Aug 22, See it at sciencerecorder.com
More Interesting Comments From Youtube