I wanted to share a prophetic dream from Jennifer Schultz that I felt lined up with a number of other words and dreams that are out there.  She talks about a time that is coming in the fall where there will be a freeze on bank accounts.  She mentions there will be a stock market collapse, and food stamps were failing.  She also mentions Yellowstone erupts.  Could this be this year, or some year in the future?
Jennifer Schultz

I was pulling up to the ATM to take money out of my account it allowed I was paying my bills and every time I pulled money out it disappeared. I wasn't the only one noticing it. I went to my bank and asked to pull the rest of my money and they did but when they handed it to me it crumbled like dust. The banker couldn't explain it.

They turned on the television and it was showing stock markets dropping worse than 08.

She typed my account number in the on the computer and said ma'am your money is still in your account. So I ran to save a lot I used my card to try and pay and it was declined.


All electronic systems were failing WIC Food Stamps none of it was working.

It was fall because the leaves were changing colors I was walking back to my car and it looked like it was snowing. I turned on the radio and an announcer was saying the Yellowstone had erupted.

I seen 11:11 everywhere in my dream. On the radio and TV they were talking about Halloween and Thanksgiving. Then I woke up in a cold sweat the time was 4:44….
---
Mena Lee Grebin recently released two dreams about California and a coming earthquake on Aug 25, 2016. 
In her first dream she was driving with her husband.
I looked out towards the west as we were turning, and noticed that the crack in the road continued out west. As I looked off, I saw total devastation. The highway had rolled up like a scroll. There were cars everywhere; some even piled on top of each other. Black smoke towered the sky in the distance. I watched in horror as the scene disappeared into the horizon. I told my husband we had to pray for the people because a huge earthquake had hit. During the whole dream, there was a song playing on the radio; California Dreaming. As I was coming out of the dream, I heard these words; "It will happen soon."
Then about a month ago she said she had a vision about California :
Roughly about a month or so ago, I had a vision in the middle of the night. In this vision, I found myself standing on a beach in California (my spirit was aware that I was in California). Suddenly, I was able to see under the rock off the coastline. It was like something you would see in a science textbook, where the layers of the earth's crust are displayed. I saw pressure built up in the form of a huge bubble wedged under California. I immediately understood what this meant; an earthquake was about happen.  watchmanonthewall33.blogspot.com

Her mother also saw a detailed vision of an earthquake in which she saw lights emerging out of the rubble, and angels catching them. When she inquired about the lights, she was told they were the souls of the saints and the innocent. She also mentions a friend of hers who also was told by the Lord that an earthquake was coming to California.
What's also interesting is that I have a friend, a sister-in-the-Lord, who lives in southern California. She was told by the Lord that she was to leave, and that shortly after she left, the earthquake would come. Well she was suppose to leave last year, but the move got delayed an entire year. There were times when she was nervous about this, but continued to stand on the promise that the Lord spoke to her. Now she is scheduled to leave this mid-fall. watchmanonthewall33.blogspot.com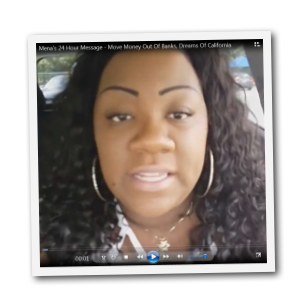 Mena Lee Grebin recently released a word in a video on August 24th that was taken down in 24 hours by her about two dreams about California and a coming earthquake. 
The link was originally here: https://www.facebook.com/mena.lee.543/videos/10157347077935182/
In the video at about 7 minutes in she says the Lord spoke to her audibly after her DC conference about pulling money out of the bank. She then said that she talked to 6 pastors who also confirmed this.
"they too have been told the same thing" ….
"the Lord has given the same exact word to, and just within the last week"
She did not release their names, but she was instructing her followers to pull money out of the bank in smaller denominations…  (I would imagine $1 dollar bills, $5 dollar bills and $10 dollar bills to make change)
Her word, reminded me of a prophetic vision of David Wilkersons.  In his vision he said at some point Mexico will default, which will cause a Bank Holiday in which American Bank accounts will not be accessed for 6 months.
David Wilkerson's Vision Of Mexico Defaulting Resulting In An American BANK HOLIDAY Where Bank Accounts Could NOT Be Accessed For 6 MONTHS
 "Very soon a European or North African or Eastern nation is going to default on its international loan and when that happens within two weeks Mexico is going to default"

"But two weeks! after the first country goes down, Mexico is going to default on $100 billion. And When the banks open the next day at 9:00 am in the morning $15 billion an hour is going to be withdrawn from our American banks. They are going to be running our banks; the Arabs, all the Latin American countries. They are going to be running our banks – and before the day is over the United States is going to have to declare a bank holiday. And we are going into six months of the worst hell America has ever seen!"

" I'm telling you – this is the first time I've said it in a public meeting like this – but the first country that bellies up you get every dime you have – church get your money out of the bank because you've got two weeks because there's going to be a bank holiday and you won't be able to get a dime for six months."
Could this be because of Mt Popocatepetl erupts?  Below Randy Hecker also sees movement in California, but also sees a volcano erupt in Mexico lining up with David Wilkerson's vision.
Randy Hecker's Dream Of Mt. Popocatepetl's Explosion Triggering Yellowstone Followed By A Nuclear Attack On American Cities
"…begins with Mt. Popocatepetl in Mexico. There will be a sudden very powerful eruption that will blow its lid off. Within hours an 8+ magnitude earthquake will strike Mexico City and virtually level it. Thousands will be killed"

"The economy of Mexico, bad as its, will collapse except for precious metal values"


"This event will radically increase pressure on the San Andreas Fault to the north. The fault is locked up in an area from Palm Springs in the south to Palm Dale to the north. HAARP will be used to create a super earthquake in this area"

 "The earthquake will strike ……just after a complete economic meltdown of the American dollar. The magnitude of this quake will reach somewhere between 9.5 and 10.5 and it will last for nearly three minutes. Two to three million people will be killed outright. Millions more will be injured"

"The ground shock from this quake will cause every other stressed fault within 1,500 to 2,000 miles to release all pent-up stresses. As the ground shockwave moves to the north the Sierra Nevada volcanoes will be triggered, the Cascadia volcanoes, and also the Yellowstone super volcano will also be triggered"
On Randy's website he also mentions this:
"A massive earthquake is coming to Mexico City.  During this quake large areas of the world's biggest city will be swallowed up and millions with die.  The volcanoes will erupt.  There will be a massive eruption of Mt. Popocatepetl.  When the smoke clears Mexico City will be no more  Be warned that when this earthquake happens it is the final warning sign for the coming Great West Coast Earthquake."

"For five years now I have been warning about Mega Earthquake that will strike the San Andreas Fault and cause massive devastation to the California Southland.  I have stated that it measure between 9.5 and 10.5 but it would be preceded by two warning shocks.  The first of these would measure between 5.5 and 6.5 on the Richter Scale and it would occur out in the desert regions of Southern California.  It will hardly be felt in Los Angeles.  The second quake would measure between 6.5 and 7.5 on the Richter Scale.  It will cause damage at the epicenter and the tall buildings in Los Angeles  will sway.  There will be damage in older areas.

I do not know the time interval between the first and second quake, or how long it will be after that before the Big One strikes.Twice before this pattern of quakes has hit without the Big One.  But I believe now the Big One is clearly coming.  This is based on other things the Lord has shown me.  The Lord has shown me that there would a mass migration out of Mexico and other Central American countries.  This has started but it will finally reach millions streaming north.The Lord has also shown me that the crust of the planet along the western margin of Central and North America will begin to break up before this quake., because of early effects of the incoming Destroyer.  The 4.8 magnitude earthquake outside of Las Vegas, where the water of Lake Mead is draining into the earth, is a clear indication that this has started."
Go to this link earthquaketrack.com/p/united-states/california/recent
Yellowstone has been seen by a number of other prophetic voices including Godshealer 7
She was in a park in the wilderness. (YELLOWSTONE)
When this volcano erupts, giant boulders come down with it. See it here
The Carbon Monoxide level is so high in the Park, that people in West Yellowstone are getting sick. My grandson (age 4) wouldn't wake up this morning so my daughter rushed him to the fire dept. to the EMT's who rushed him to Big Sky on high oxygen to the Hospital. His levels went up to 10. A 3 is high enough for concern. He was released after treatment with oxygen and dozens of tests, but my daughter was warned to "keep it quiet so as not to cause a panic".
HE ALMOST DIED!"
Find this thread on God Like Productions Dated 8/29/2016
Jan Meador has also seen a very large earthquake come to California.
"I was reading another posted in the last few days re earthquakes and California and thought of my dream titled, Death Angels at a Football Stadium. It's about the Hayward Fault that runs east of the San Andreas, and actually runs through the Memorial Stadium football field at Berkley, from goalpost to goalpost. I had never heard of it before my night vision, but most recently it has been named much more dangerous than the San Andreas and is way overdue. Anyway, just wanted to make sure you knew that dream was about a California earthquake. "
Miss Linda wrote us about volcanoes erupting:
It's August 20, 2016. I awoke from a dream about the volcanoes in Oregon erupting. I saw three mountains that are called the three sisters. All three of them exploded one at a time and very violently. They shot straight up in the air like golden fire. As the dream went on there were sirens and evacuation warnings for mount Hood. It was ready to explode. The ground was shaking violently like an earthquake. The sky turned dark and hot from ash all of a sudden with wind moving. I was suddenly in my fathers old house on the hill. I was bracing myself. Putting sandbags around it. Water was rising and the town was flooding. I woke up.


More detail to her dream:

Yes I live in Oregon but east of the cascades.  I don't remember a season, but it wasn't during winter. Everything was bright like maybe spring or summer. I read your posts yes about the other volcano dream. After I had that dream I googled to see if anybody else was having those dreams and found your site. Many years ago late 90's or early 2000 I had three similar dreams also about the cascades on the Columbia river. I was flying above the area in my dream looking down at the freeway on the gorge.  The mountains were splitting in half and I remember petroglyphs. Earth shaking. A car on the freeway was covered with water as it was driving and the Columbia river was raging. That dream bothered me then. I had it three times.  One other creepy thing I remembered wad a middle eastern man running up the stairs go to my house with a machine gun and laughing.  He was killing ppl in the neighborhood.
Jan Desisto's California Earthquake Dream
MY HUSBAND AND I WERE WATCHING TV AND THE COMMERICAL FOR "SAN ANDREAS" THE MOVIE TRAILER' CAME ON …WHEN THEY PLAYED THE PART REGARDING THE BRIDGE COLLASPE/TSUNAMI , I SCREAMED TO MY HUSBAND, THAT WAS EXACTLY WHAT I SAW IN MY DREAM.  I WAS FREAKED OUT TO SAY THE LEAST.  THIS BRIDGE COLLAPSE WAS IN MY DREAM…EXACTLY THE WAY THE MOVIE TRAILER PLAYED IT.  I WAS IN SHOCK. 

     STILL ASKING THE LORD FOR MORE CLARIFICATION ON THE DREAM, FAST FORWARD TO THE END OF JUNE AND THE PASSING OF THE SAME SEX MARRIAGE ACT…THE WHITE HOUSE I WAS IN WAS THE "WHITE HOUSE" AND THE CELEBRATION WAS FOR THE PASSING OF THIS UN HOLY LAW.  HENCE THE JUDGEMENT OF THE EITHER AN

EARTHQUAKE

/TSUNAMI IN THE SAN FRANCISCO AREA. OR THE RUSSIAN SUBMARINE MISSLE ATTACK OR BOTH !!

     IN MID-JULY WHEN NORTHERN CALIFORNIA HAD A 4POINT

EARTHQUAKE

AND THEY STARTED TO CHATTER ABOUT THE BIG ONE COMING…ONCE AGAIN I ASKED THE LORD FOR MORE CLARIFICATION. THE FAULT LINE THEY WERE TALKING ABOUT STARTS UP IN THE STATE OF "WASHINGTON" AND OREGON.  MAYBE THIS IS WHY I HEARD THE WORD "WASHINGTON" .? TIME WILL TELL…
An Additional Comment From Jan Desisto
"My other dreams are regarding  the East coast. A tsunami in NYC the timing In The dream was near  "thanksgiving"  I was not told  before or after. I saw skyscrapers being knocked out floor by floor Just like you delete a post off to the side with a swipe !  "
Additional Confirming Links:
Could Martial Law Be Connected To The Removal Of Welfare Checks …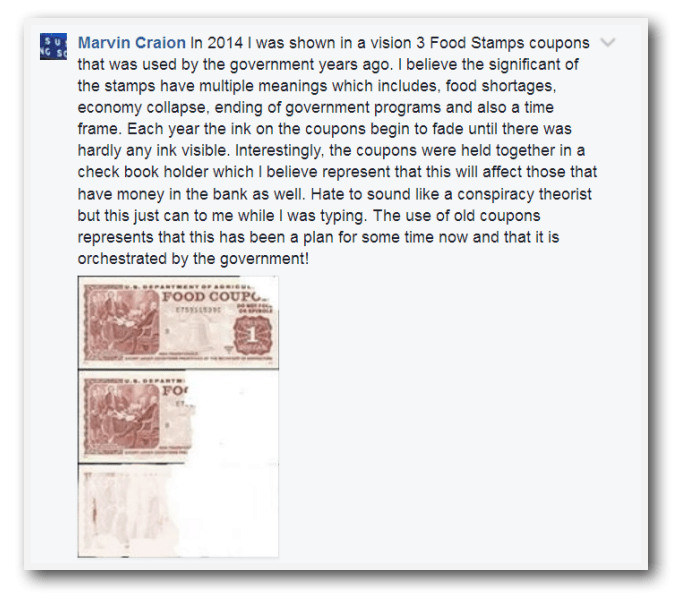 Marvin Craion
Seeing the number 11:11, or 444
Save
Save
Save
Save
Save
Save
Save