The Scriptures – Institute For Scripture Research- New From $33 on Amazon
The Scriptures – Institute For Scripture Research- New From $33 on Amazon
The Scriptures is a translation by Institute for Scripture Research.
What is great about this translation?
Improvements have been made to the text, seeking a yet closer literal meaning of the original language.
Quotations from the Tanakh (Old Testament) are in bold type in the New Testament, and are accompanied by the text references – aiding your understanding of the original contexts, and how they influence the writers drawing upon them.
Hebrew names of Book Titles are now on right hand pages with corresponding traditional English names on the left hand pages.
Consider checking out this translation.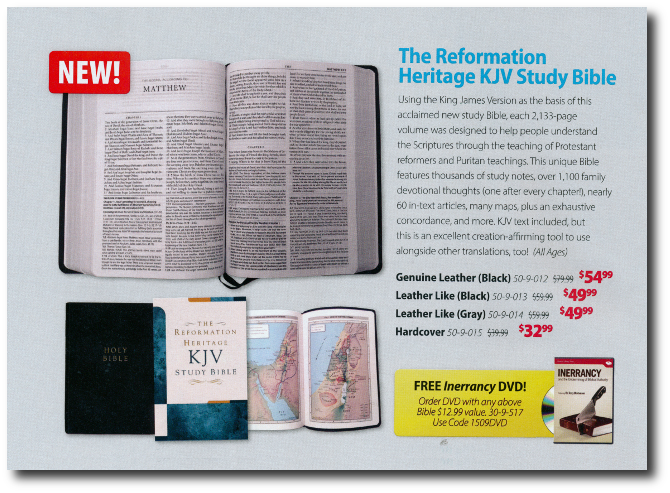 Picture Credit- Buy this bible through Answers In Genesis
The Reformation Heritage KJV Bible On Amazon
A Study Bible to Discover Your Roots …Overview of twenty centuries of church history, ancient creeds, confessions, and catechisms with introductions
Using the King James Version as the basis of this new study Bible, each 2,133-page volume was designed to help people understand the Scriptures through the teaching of Protestant reformers and Puritan teachings.
This unique Bible features thousands of study notes, over 1,100 family devotional thoughts (one after every chapter!), nearly 60 in-text articles, many maps, plus an exhaustive concordance, and more.
KJV text included, but this is an excellent creation-affirming tool to use
alongside other translations, too!