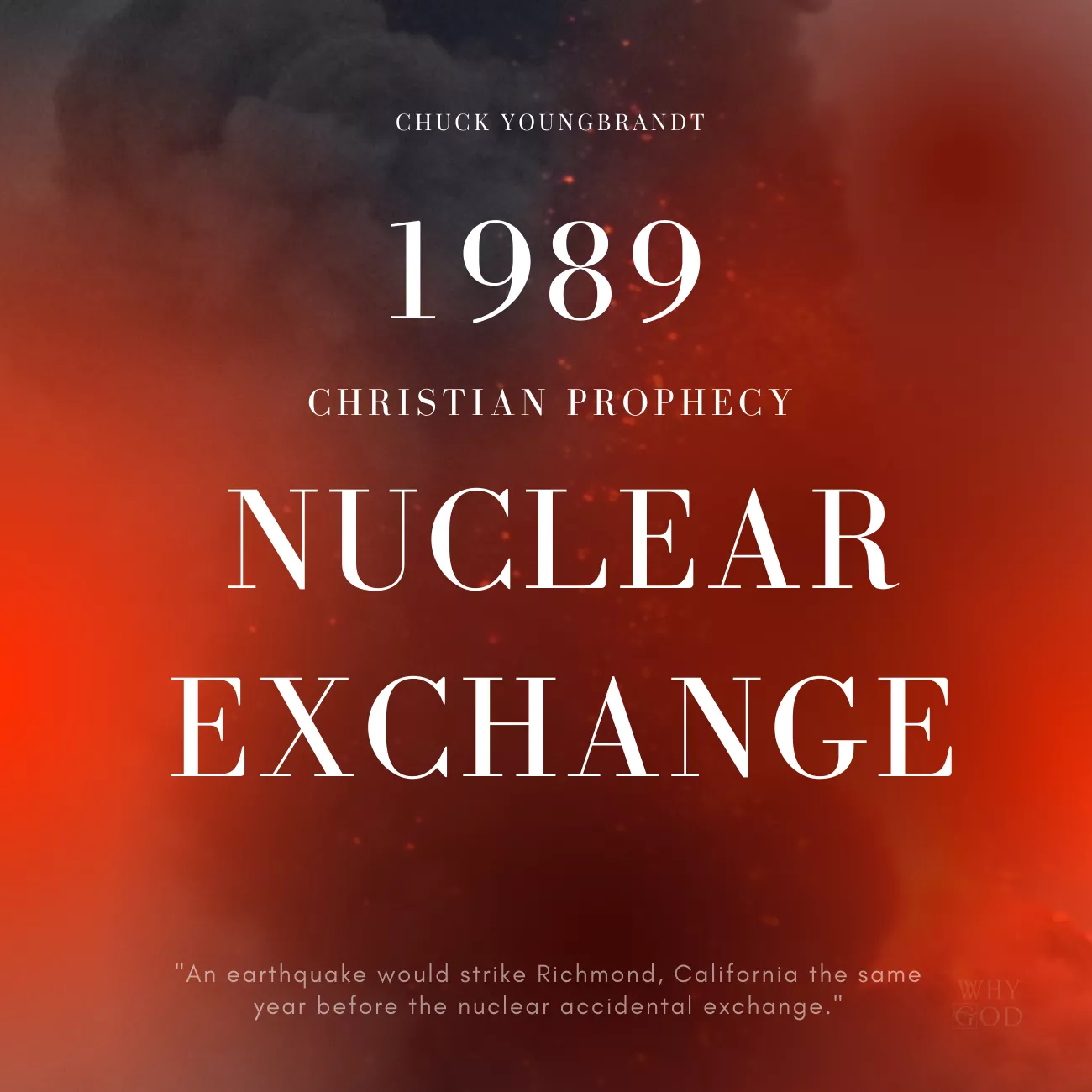 This prophecy was copied from the late Chuck Youngbrandt's website.
Letters to the Presidents- The Staff and The Sword Ministry.
Letters To The Presidents Of The United States Of America (1979 to 2008)
LETTERS TO PRESIDENT GEORGE H.W. BUSH(1989 to 1991)
This section of Letters to the Presidents of the United States of America contains two letters (and attached documentation) written to President George H.W. Bush from 1989 to 1991. Please note that portions of the letters have been omitted.
---
LETTER: OCTOBER 23, 1989
President George Bush
The White House Washington, D.C.
Dear Mr. President,
The Love of Jesus be with you.This is what the Lord Jesus Christ would have me say:
"WATCH NORTH OF SAN FRANCISCO AFTER THAT YOU SEE WHAT COMES IN FROM THE SOUTHEAST, THEN KNOW IT IS ONLY DAYS BEFORE THE NIGHT SKY ROARS TO YOUR SOUTH, THE WHITE HOUSE SHALL GREATLY SHAKE, THE FOUNDATIONS WILL BE CRACKED.
THE NIGHT OF TERROR IS UPON YOU SAYETH THE LORD OF HOSTS.SHALL MY WORD GO FORTH AND BE MOCKED?! YOU HAVE MOCKED MY WORD AND MY PROPHETS, AND NOW MY WORD RETURNS TO ME NOT VOID.
I WILL SURELY BRING YOU DOWN FROM THE HIGH PLACE YOU HAVE LIFTED YOURSELF UP TO. I SENT MY WORD TO YOU WITH HOPE OF LIFE AND YOU PREFERRED DESOLATIONS OF DEATH AND NOW YOU WILL REAP ALL THIS AND EVEN THIS NIGHT OF TERRORS IS BUT A LITTLE OF WHAT COMES THE GREATER AGAINST THIS NATION. T
HUS SAYETH THE LORD OF HOSTS. IF YOU WILL NOT ANSWER MY CALL, YOU WILL ANSWER ANOTHER IN THE NIGHT OF TERRORS. I WILL SEND MY PROPHETS TO YOU TO EXTEND LIFE AND COUNSELS THIS ONE LAST TIME. IF YOU RECEIVE THEM NOT, EVEN YOU WILL BE SOON REMOVED FROM YOUR OFFICE. TURN MY PROPHETS AWAY AND YOU ARE TURNED AWAY FROM LIFE. THUS SAYETH THE LORD OF HOSTS.
"In 1983 Jesus led me to write you and President Reagan of God's warning of a
coming accidental nuclear exchange between Russia and this nation—to come "A December"

.
God then revealed that a terrible hurricane would impart the South-East areas of U.S.A.
in "A September" the same year this accidental nuclear exchange would come.
Jesus showed Nancy-TONI that an
earthquake would strike Richmond, California the same year before the nuclear accidental exchange

.We now know that this nuclear accidental exchange is fully been set in motion—the U.S. Cities to be hit by nuclear blasts are:
Lexington, KY

New York, NY

Richmond, VA

Columbia, SC
Jesus has revealed that the loss of life in America can reach upwards to 18 million dead.Jesus has also revealed that you are in danger.Jesus will send us one last time to the White House, we come to offer God's Counsel and Help whereby much loss be averted. We extended such help to President Reagan against assassination in 1981 and help again in 1983 against the plot to blow up the White House. But we will come once, and if turned away, then it's done.
God Bless,Chuck-JOHNEL and Nancy-TONI Youngbrandt
---
Other Confirmations:
#1 John Paul Jackson: "There is a an earthquake that has been predicted to devastate California.  Meaning skyscrapers are going to fall that the shape of the United States will change after that earthquake. That won't happen until after there's a storm and major storm is going to come to California. It's either a hurricane of incredible force, or it is a storm of incredible force. But a great, great hurricane, our incredible force is going to come to California, and the earthquake that destroys (California) will not happen until after that takes place. So there's a way of saying, Okay, I have time, but that doesn't mean it won't be an earthquake tomorrow 7.5 you know, or next week or two weeks from now have some some magnitude.  I'm talking to one that changes the shape of California where you don't want to live in California, anywhere in California, but that happens or perhaps even the most of the most of the West Coast.  Where an inland ocean is formed and and Baja becomes an island and the mouth of the inland ocean forms between between San Diego and Los Angeles.  That is not going happen before that that storm comes.  That is a sign that God will give this giving to the people- don't worry about that big one. This sign will happen will happen first." (Watch the video here)
…………………………………

Chuck Youngbrandt saw a nuclear bomb go off north of Chicago on a day closely connected to the St. Louis earthquake on September 19 of the first of three years of judgment on America.
Fernanda Menegassi-Lojac – "The image zoomed in to New York City and I saw Manhattan hit by two missiles. As each missile hit, the ground cracked and after the second missile hit, the city and water started to violently inundate Manhattan from the east. Then more water came from underneath the cracks in the ground, which were created by the missiles. Then, my eyes left the first map and I looked down to the second map on the bottom left of the triangle. I saw a few pins pushed into that map. There was a pin over Louisiana and another over the east side of Texas. The Louisiana pin started moving first from the east and then the Texas pin began moving parallel to the Louisiana pin. Together they traced lines from the south all the way up past Missouri, toward Illinois. I understood in my spirit that the pins symbolized an earthquake along the New Madrid fault line and that it would start with Louisiana. As the pins traveled north, the earth opened and water gushed in from the south." –Manhattan Hit By Two Missiles Prophetic Dream Fernanda Menegassi-Lojac
" I saw it. It was passing over a skim of clouds, not heavy clouds, but a thin skim of clouds. I was standing on the side of this mountain, a residential district. I was looking over into a bay area. It would appear like I was in Berkeley, if you've ever been to Berkeley, and the Berkeley hills. I was looking into the bay area toward San Francisco, the San Francisco Bay region, that direction.I saw the freeway. I don't say that it was the Oakland freeway that is there today. I don't know where it was, my friends. I do know this, that I was standing on the side of this mountain, overlooking a huge metropolis, when I saw this missile directed toward the city; and suddenly, being electronically controlled, no doubt, it plummeted right down into the city and then exploded. Then I saw the fireball, which answers to the description of what I have seen in a civil defense film release of the first hydrogen bomb explosion.This happened in 1929! The atom was not split until 1932! – AC Valdez
…………………………………
"The vision opens in New York with the Statue of Liberty, she was tilted; they had put her up on crutches and covered her with paint. When you see her this way it is the beginning of great sorrow and deception for your nation. In this vision I saw a map of the United States with lights big and small all over. I knew they were churches. A sonic boom comes and shakes the map. Some stay the same, others become bigger." – Mary Ann Brown
"I saw epidemics break out everywhere" – 1976 Prophetic Vision Mary Ann Brown
See the map in this post.
California, Las Vegas, New York, Nevada, and Florida Will Burn – Dumitru Duduman

A Tsunami And Nuclear Bomb Attack Seen In New York City – 2015 Prophetic Vision Sister Barbara
"Chicago will no longer exist; New York is next and then Los Angeles " Prophecy Given To Lindy Snow Pierce 2009
"In the first vision I saw a nuclear attack on a coastal U.S. city."
God Interrupted Man's Prayer With 3 Open Visions Showing Horrific Destruction Coming To America – Jason Lawrence
""I saw the Island of Manhattan hit by two missiles, very quickly, one, two""
Manhattan Hit By Two Missiles Prophetic Dream -Find Out What Else Fernanda Menegassi-Lojac Saw Coming For America
"I saw three missiles launched at us in rapid succession" 10 Events Coming To America -Shari Straight
"The United States is being attacked by missiles" A Prophetic Dream Given To Melisa Peggs
"I had the Lord telling me, NYC must be speedily evacuated, because NYC is facing a threat that is massive and a very high magnitude" – Esther From Kenya's Prophecy
"The Strike Against New York" – Prophetic Warning – The Master's Voice
Lindsey Marceau's Prophetic Dream Of A Blood Moon Judgment Coming To New York City
Intercontinental Ballistic Missile Prophetic Vision – Marty Breeden