Sadhu Sundar Selvaraj released the prophecy that was given to him concerning America and dividing Israel's land in a Prophetic Conference that was held on January 14, 15 and 16th.
You can follow his ministry on facebook at his official page Angel TV
Watching from this video, At about 16 minutes he reveals a word that the Lord gave him on Christmas day in 2016. In the afternoon of that day, Jesus began speaking to him about the things that would come to pass in 2017.
He said that Jesus revealed to him as a consequence for dividing the land of Israel a skin disease would break out in western countries.
This lines up with a dream that a 13 year old had about New York city. Click the link to pictures that most represented what he saw.
At about 17 minutes in he describes the meteors that would fall. MANY meteors, not just one, two or three.
Here are coordinating prophecies:
Prophecies Asteroids / Comets / Meteors


Unique Connections With Asteroids

Could The 67P Comet Play A Significant Role In The Future Days?

A Compilation Of Dreams For The 23rd and 24th On An UNKNOWN Year
Then he describes trees burning in large numbers because of the sheer volume of meteors that fell down to earth.
This word fits with a few others that we see….
Jul 12, 2016 – "I have had recurring visions of over 1,000 fires burning at one time here in New York city. I am convinced RACE RIOTS WILL SOON EXPLODE …

whygodreallyexists.com/…/flee-california-a-prophetic-warning-from-god-given-to-pa…

Aug 30, 2016 – In one hour it will start and in one day you will burn. You will be crying out for your wealth and not Me? You have depended on your wealth and …

whygodreallyexists.com/…/10-prophetic-visions-coming-to-america-by-rachel-baxter

Aug 5, 2016 – Your Country Will Burn. "Your country will burn. Your country will fall. Your country will be left desolate, but My remnant will be safe in My arms.

whygodreallyexists.com/archives/great-change-is-here-benjamin-faircloth

Oct 4, 2016 – Flee this Babylon as it burns, flee this den of iniquity and this place of sin. For I will arise says your God and I will blow upon this nation a fierce …

whygodreallyexists.com/…/julies-warning-vision-from-god-about-dividing-israel-and…

Nov 7, 2015 – New York, I will burn you and lay waste your city. You will be reduced to burning rubble and ashes. Miami, your cup of iniquity is overflowing …

whygodreallyexists.com/…/george-washingtons-vision-of-3-wars-america-will-fight-o…

Nov 14, 2016 – George Washington saw fire burning the cities and villages of America. That is consistent with many other prophetic words posted on this site …

whygodreallyexists.com/…/destruction-will-come-about-through-the-vengeful-hands-…

Aug 31, 2016 – Their great cities will burn, their crops and cattle will suffer disease and death, their children will perish from diseases never seen upon this …

whygodreallyexists.com/…/psalm-83-is-upon-you-now-a-stern-prophetic-word-given…

Jan 4, 2017 – MY HOLY FIRE WILL BURN THEM AND THEY AND THEIR LANDS SHALL PERISH BY FIRE FOREVER, AND NEVER RISE AGAIN!!

whygodreallyexists.com/…/mega-quake-on-the-north-west-coast-coming-april-2011-…

Jan 3, 2017 – I will burn up the filthy mess and purge My people. I will step in and move in vengeance. Ten (10) years I have determined against you America, …
He then talks about mountains will spew and burn, meaning volcanoes will go off. Volcanic eruptions will take place and the lava will shoot high up in the area contaminating the waters causing them to be undrinkable.
Here are the prophetic words that line up with volcanoes:
whygodreallyexists.com/…/dreams-about-a-comet-named-67p-the-date-of-september-…

Sep 3, 2015 – 2 Prophetic DREAMS from Leslie – Dream One Is About A Tsunami New York, The Second on is about a Volcano which erupts Mt. Hood …

whygodreallyexists.com/…/jason-lawrence-sees-dramatic-earthquakes-series-of-volcan…

May 24, 2016 – Jason Lawrence had three OPEN visions about volcanoes going off along side 3 major earthquakes along side a tsunami that hit the west …

whygodreallyexists.com/…/3-volcanoes-go-off-on-the-west-coast-and-then-2-years-af…

Jun 16, 2016 – 3 Volcanoes Go Off On The West Coast Then 2 Years After -An Invasion Of China And Russia Chuck Youngbrandt talked about a vision which …A separation is coming in the church. Revelation 22:11 – Two groups exist- a righteous and filthy group of people.

whygodreallyexists.com/…/denises-vivid-prophetic-warning-dream-of-mt-rainier-expl…

Jul 14, 2016 –

I got an email from a reader named Denise, who wrote to tell me that she was lead by the Holy Spirit to contact me about her Volcano dream.

Apr 19, 2016 – As the ground shockwave moves to the north the Sierra Nevada volcanoes will be triggered, the Cascadia volcanoes, and also the Yellowstone …

whygodreallyexists.com/…/terry-bennett-and-janet-preuss-prophecy-about-a-severe-e…

Mar 26, 2016 – … " An earthquake, an earthquake with a tsunami, and a volcanic eruption" is coming to British Columbia says Terry Bennett

The consequences for dividing Israel are severe. Check out the whole video below.
Other Mentions With Sadhu Sundar Selvaraj
whygodreallyexists.com/…/election-2016-prophecies-which-are-correct-trump-becom…

Nov 1, 2016 –

Speaking in session ten of the 2016 Lancaster Prophetic Conference on August 13 2016, Sadhu Sundar Selvaraj shared a message on his …

Sep 1, 2015 – Sadhu Sundar Selvaraj. "This is what will happen to the best friend that will betray Israel and divide Jerusalem. As he spoke those words, I saw …

whygodreallyexists.com/…/the-dividing-of-israel-and-the-dividing-of-america-6-prop…

Jan 2, 2017 – Prophetic minister Sadhu Sundar Selvaraj was a prophet who also was proven accurate when he prophesied Trumps presidential win. He also …
---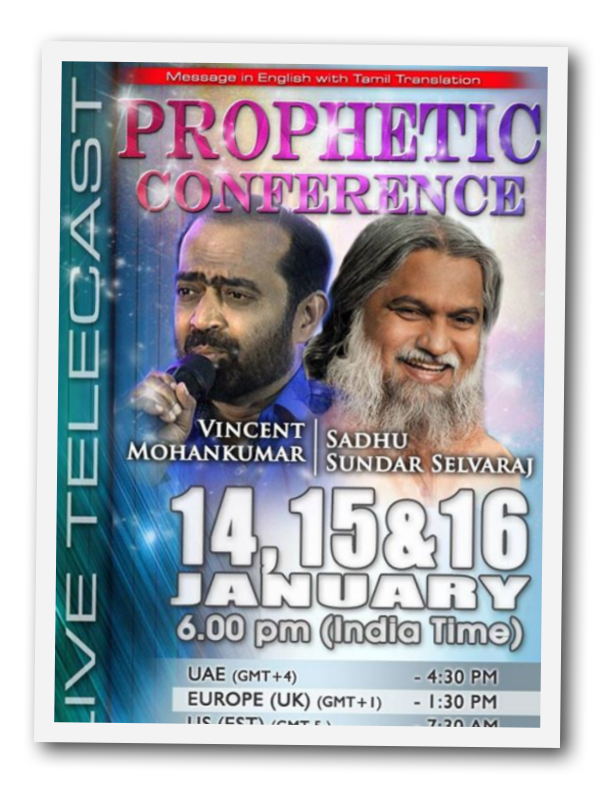 ---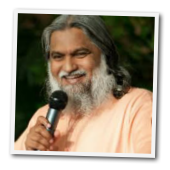 The following is the transcript of his word was taken from James Bailey's z3news.com
On 6 December 2011, at 12:45 PM, I was called by the Lord to come and meet him. This was during the conference that was going on. So I stole myself away from the conference and went to my room. As I entered into my room I saw two mighty angels standing there and they beckoned me to go to the balcony. They said, "The Lord is standing there. Go and meet him there."

So I went to the balcony and I saw the Lord Jesus Christ standing very regally. And he beckoned me, "Come and stand beside Me."

When I stood beside him he said, "Look at my beautiful city."

So I looked around. From the hotel high-rise you can see the nice beautiful city. As I was watching, suddenly there was a huge explosion. A bomb dropped and a building exploded. Another bomb dropped and another building exploded. The whole city was gone up in smoke. Warplanes were flying here and there.

The Lord Jesus said, "My city will suffer the pain of war."

Then the angels that were standing by said, "In the war Israel will put up a stiff fight amidst heavy losses. A political trap will be laid for the city to be captured. And Israel's best friend will betray her."

Then the son of perdition, her best friend, will come to offer peace, a land for peace deal. When this will be done, very soon, Daniel 9:27 will be fulfilled. It will be fulfilled in the war. Then the angels who were standing by said to me, "Even now the son of perdition is making plans with the beast for this to happen. The UN will gather the nations to force Israel to divide Jerusalem."

When this word was spoken to me, and a vision I saw the Israeli Prime Minister desperately hoping and trusting that their best friend will stand by their side to help them. They will be so helpless. They will be in a cornered position not knowing what to do. They cannot stand up and declare that Jerusalem cannot be divided anymore. They will be so helpless. In the midst of their helplessness, their best friend comes with a political trap and the Israeli prime minister will trust their best friend and agree to their demand, not knowing it is a trap.

What will be the aftermath of dividing Jerusalem? It will be divided. Great earthquakes will take place in many places around the world, especially in the nations that will be involved in creating and conniving this plan to divide Jerusalem. It will be followed by great tidal waves of tsunamis coming to cause great devastation.

Sadhu then describes another encounter with an angel who told him more details about the consequences for America that were coming as a result of her betrayal of Israel.

Suddenly I saw an open vision right before my eyes. I saw a mighty angel with a long, drawn sword in his hand. And he stood before me speaking all of these words. Then he said, "This is what will happen to the best friend that will betray Israel and divide Jerusalem."

When he spoke those words, I saw this map of the U.S. like in a three dimensional. It appeared right before my eyes beside the angel. And he took the sword and he pierced right into the heart of the U.S. and he cut it into two. He said, "Likewise will this nation be divided as Jerusalem will be divided." He cut the land into two exactly in the center.
---
---
---
Save
Save