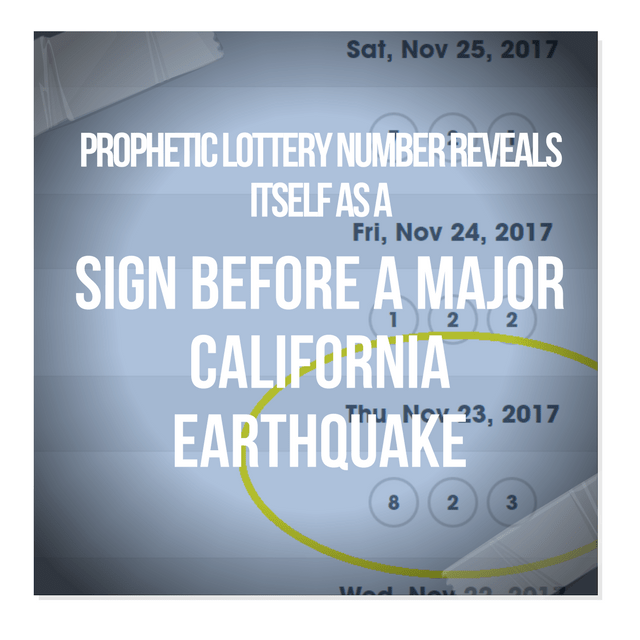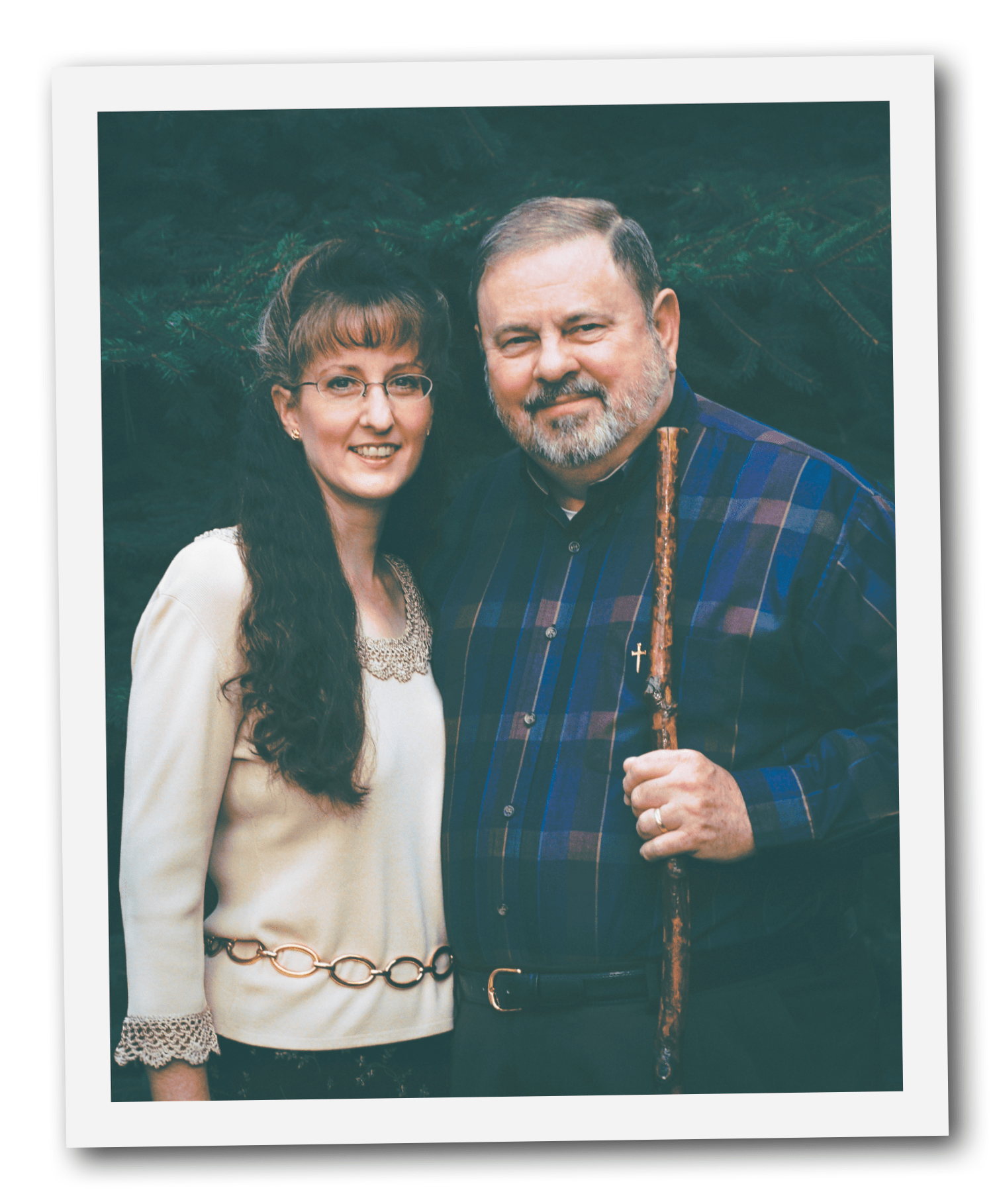 This prophecy most certainly caught my attention!
Chuck Youngbrant is a distinguished prophet that has seen the major key prophetic events to come to this country in the future.  His prophecies are the most detailed I have seen in the prophetic community. He writes a newsletter that goes out 4 times a year, and these newsletters often contain 20 or more pages.  You can subscribe here by mail.
In his October 12, 2017 Issue #172 he reveals a very interesting prophecy talking about a prophetic word involving a lottery number to watch for.
Below the prophetic word, he makes the connection that this number will be a sign BEFORE the California earthquake occurs.  This number was confirmed when it showed up on Thanksgiving On November 23rd.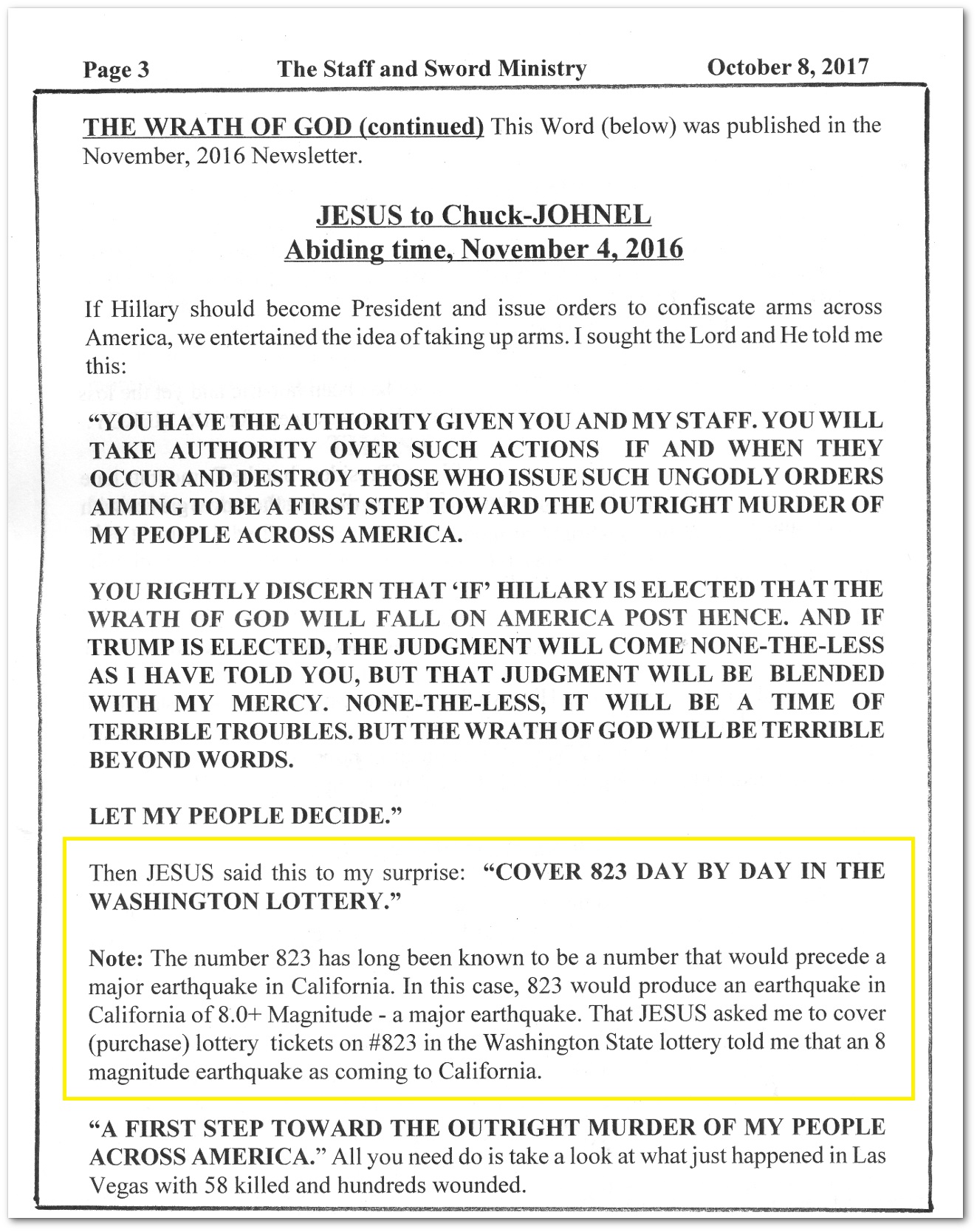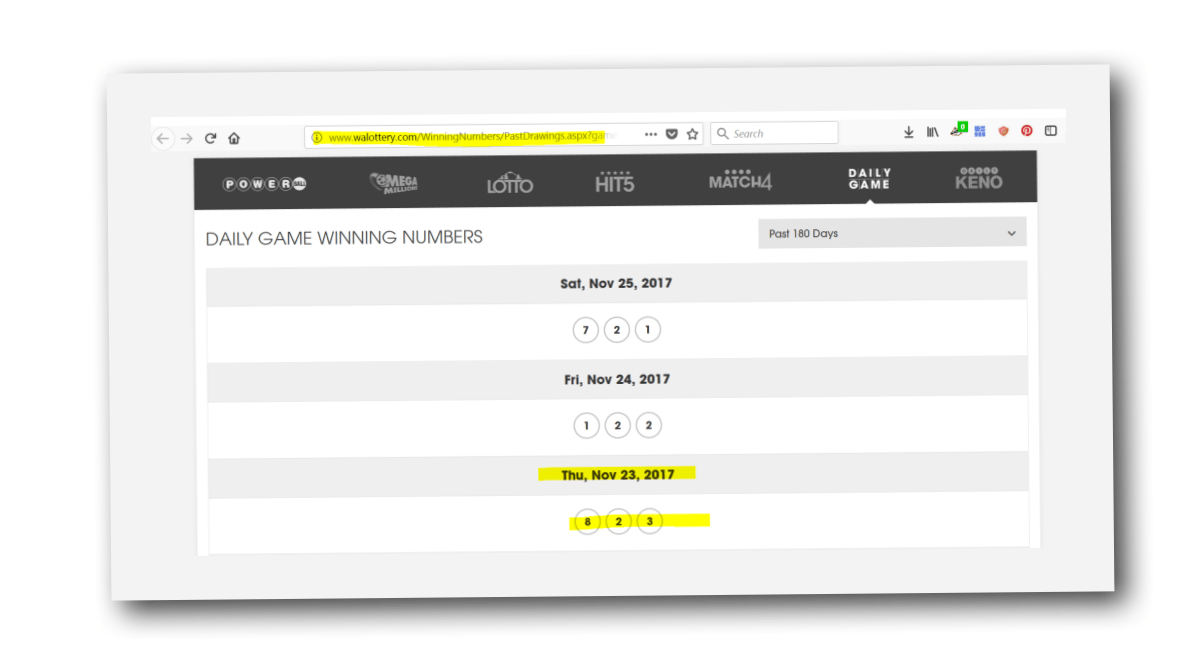 Winning Lottery Numbers
In the most current newsletter, he reveals that the wrath of God will come in 5 stages.
" The first stage is to be followed by the second stage that will be a major earthquake in California.  Your daughter Marja will feel the earthquake sharply; but for your sake I will keep her and her children safe, and her husband as well.  Abide all the more in me, Johnel, for I will reveal yet more in time"
He reveals below that the earthquake will occur between San Deigo and Los Angeles. 
In that link above was a newsletter released on May 14th 2016, where Chuck Youngbrandt says this:
"The deadly and destructive earthquakes to hit California had a distinct form and would lead to even deadlier events, such as war.  However we could expect to see a destructive storm first, to be followed by an earthquake or earthquake(s) and even a VOLCANIC eruption(s). "
(We have not seen this hurricane in New Orleans, which did NOT come to pass this year in September 2017)This will be for another year. New York City, along with DC has been mentioned in other prophecies.

From Joe Brandt's series of visions in 1937 in California, where God showed him the huge very serious California mega quakes that the ocean will claim massive land in California (these are not small earthquakes); Brandt revealed from the series of visions that God showed him, the many things that he was shown for several days in the visions—but one item very important that was shown to him was a newspaper of a future time and president in the USA, and God blurred the date on this future newspaper so that

Brandt could only see the "9" at the end of the year

and he was able to see a

"somewhat heavy or husky male President"

during that future time coming, and he noted that this male president had obvious "big ears" and he was bigger—heavier than 1937 President Roosevelt. These detailed visions were put in the newspapers in California in the 1960's as I recall, it could have been around 1968 or just prior.

So now it appears strongly that the West Coast California gigantic quakes that the ocean will claim massive California land will occur probably in year 201"9,

" and before the Florida and maybe Chicago & New Madrid—Mississippi River quakes; for Brandt was taken in the spirit over the USA and he never mentions any destruction seen to either Chicago or the Mississippi New Madrid or Florida areas yet, but he did mention

seeing things in New York and of course the mega quake in CA

. And from other prophetic it is known that California it appears gets the gigantic dangerous quakes before Florida does, because in one prophetic word it was revealed that it was not wise to go to Florida from CA either just before or at the time of these dangers happening because Florida was going to get it very serious also, probably even worse than California; the godly prophetic has revealed that a very, very large part of the state of Florida will go under water at some point in the future from some major event (s?).  
Certainly we have the confirmations that a deadly earthquake is coming to California and British Columbia.
We have many conformations that an earthquake at some point, (whether it is connected to the first earthquake, or another event )  will break off parts of the state into the ocean.
We have confirmations that this earthquake will cause a tsunami to the west coast hitting Oregon and the whole west coast.
If you live in California, I urge you to consider these prophecies as a warning to you and your family if you live in these areas.  Please take these seriously.
Meranda